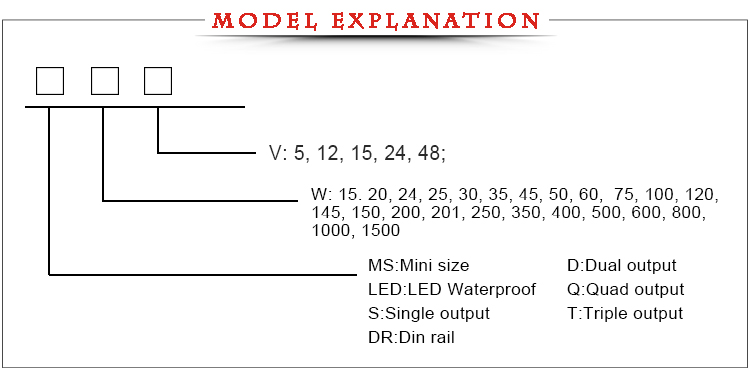 Model
DRP-480-24
DRP-480-48
DC voltage
24V
48V
output
Current range
0~20A
0~10A
Rated power
480W
480W
Ripple&noise
120mvp-p
120mvp-p
DCvoltage ADJ.range
±10%
±10%
Voltage range
180 ~ 264VAC    250 ~ 370VDC ,   47-63Hz
Efficiency
89%
89%
Inrush current
Cold start current 0.65A/400VAC   0.6A/500VAC
Over load
105%~150% cut off the output,automatic recovery
Over voltage
120%-140% shut down O/P voltage, re-power on to recover
environment
Working temperature
-10°C~+50°C
safety
Withstand voltage
I/P-O/P:1.5KVAC I/P-FG:1.5KVAC O/P-FG:0.5KVAC 1minute
Isolated resistance
I/P-O/P,I/P-FG,O/P-FG:100M ohms/500VDC
others
Dimension
227*125.5*100mm (L*W*H)
Weight/packing
2.5kg/6pcs/16kg/41.5*27.5*25cm
note
1. All parameters NOT specially mentioned are measured at 230VAC input, rated load and 25°C of ambient temperature.
2. Ripple & noise are measured at 20MHz of bandwidth by using a 12″ twisted pair-wire terminated with a 0.1uf & 47uf parallel capacitor.
3. Tolerance : includes set up tolerance, line regulation and load regulation.