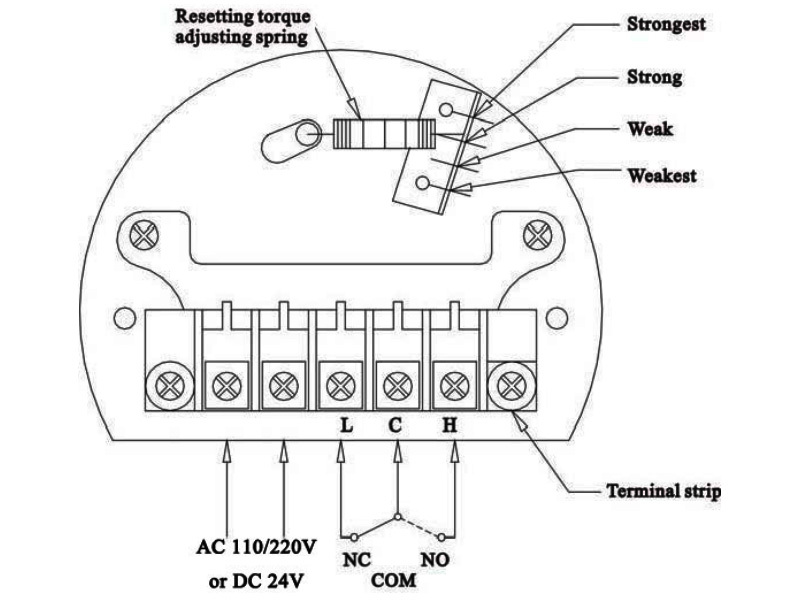 The torque spring is applied to adjust the output torque of the shaft, which is set at "weak" position at factory, it is adjustable for target measuring material S.G.(special gravity), if the measured material with higher S.G., please try to release it to more stronger spring force position until you found the proper orientation.
The paddle sensitivity will be interacted by weaker, otherwise, the low S.G. material will release torque spring to the weakest position, which will cause the paddle performance to be more sensitive.
Note: the torque force should not be adjusted during test, avoiding the error check signal.
Caution:
Make sure the supplying voltage is same as the specifications. Wrong voltage will damage the sensor.
Warning:
To avoid personal injury, dO NOT remove the housing cover after supplying the power. If you will touch any solder joints and terminals, you may receive an electric shock.
| | |
| --- | --- |
| Power source | 110/220VAC/24VDC |
| Power | 3W |
| Contact capacity | SPDT 250VAC/ 10A |
| Speed | 1 rpm |
| Insulation V. | 1500V in 1 minute |
| Specific gravity | >=0.5g/cm3 |
| Torque | 0.3~1Nm |